All pictures are made by Eric GEIRNAERT : JAVELIN-ART
This web page is only pictures Javelin Art with Uwe Hohn.
After more than two decades, Hohn's 104.80 meter javelin performance still astonishes and resounds!
Young German, Uwe Hohn, 22 years, dominated the javelin throw event early in his career winning European Junior Champion, and would take in hand - a monster world record throw of 104.80 meters - a world record of epic proportion by any measure! Young German Uwe Hohn enters athletics history and becomes the first launcher of the javelin to exceed the 100 meter barrier!

In 1984, a legend of German javelin aces Uwe Hohn pulverizes javelin throw's mythical barrier of 100 meters, just a few days before the 1984 Summer Olympic Games…

This incredible mark was carried out with the pre-1986 rule, old model javelin, which floated like a "sail plane" when thrown with a low, flat projectory. Uwe Hohn carried out this splendid world record at a meeting organized in East Berlin, one week before the 1984 Los Angeles Summer Olympic Games. Unfortunately for political reasons, the Los Angeles Games are boycotted by Germany, leaving out 1982 European Champion Hohn and 1983 World Javelin Champion. The 1984 Olympic title would be won by Arto Kalevi Härkönen of Finland. This splendid performance of 104.80 meters worried IAAF governing body leaders because it posed the crucial question of the limit of the infield grounds of many stadiums around the world. Petranoff was also concerned that the javelin could become a "spectator participation" event on the far end of the javelin sector as he consistantly blasted 90+ meter throws during his peak years with the old model javelin.
Not without difficulties, the technical solution was finalized in 1986 and, it was finally decided to advance the centre of gravity 4 cm forward to reduce the trajectory plane. This modified design parameter, according to comparison of several competitors results, has since reduced javelin flight path distance from 10 to15% on average. This consensus is consistent with the distance drop off Tom Petranoff experienced after throwing his old model world record toss of 99.72 meters in 1983, yet reaching only 89.16 meters with the new model javelin. In video review of both of those throws, it is very clear how his 89.16m toss drops down out of the sky nearly vertical, versus the long, air plane landing flight appearance of his 1983 world record toss of 99.72m. Since Hohn would retire very early in his career after capping off his 1985 season with a monster throw of 96.96m in Australia, javelin fans can only speculate about his potential to challenge the 100 meter barrier with the new model design.

During the early years of the post-1985 rule javelin, several manufacturers try (successfully) to make the tail of the javelin abrasive (twist spun on the tail, dozens of honeycomb screen holes along the tail, and rough painting along the tail). These experimental models promoted a delayed "piqué down" action thus maintaining a more horizontal trajectory. Anti-vibration javelins, with internal honeycomb structures were experimented with - and also refused by the IAAF. Not less than five manufacturing process standards will be necessary to fix the final IAAF approved, technical application of the post-1985 javelin rule design.

The consequence of the post-1985 rule javelin were enormous and induced changes of techniques where throwers considered different, non-traditional release trajectories. The javelin rotates quickly during a throw and the resistance of the tail at the time of the descent can be gauged to optimize the trajectories. The basic application of a javelin flight is it rotates upon release, and has gyroscopic properties of inertia...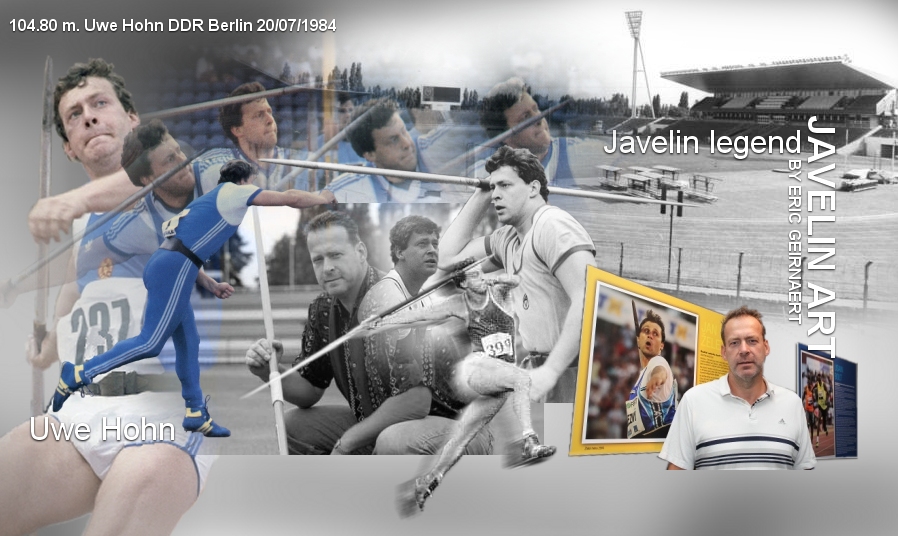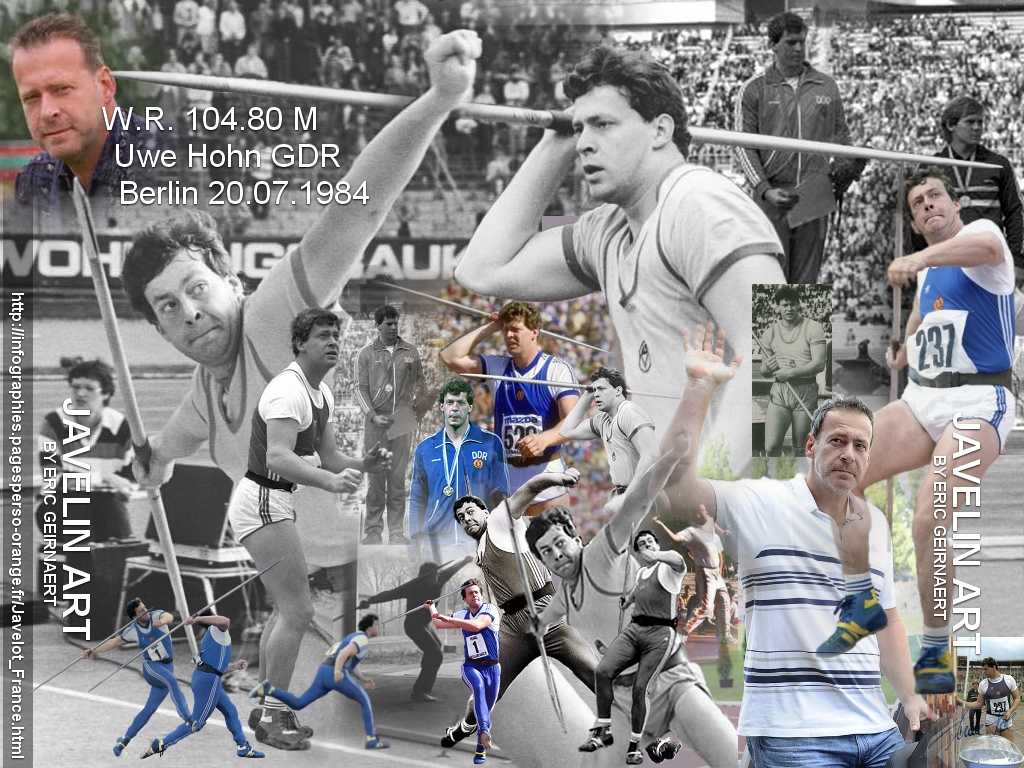 L'un des célèbres jet de javelot d'Uwe Hohn, exploité ci-contre avec ce fichier animé (fichier .gif) est malheureusement gâché par ce poteau au premier plan qui cache l'épaule... Pourrions nous, (question), Pourrions nous imaginer la vidéo sans le poteau ?

Et, si l'infographie permettait d'améliorer LES Documents les plus importants de la discipline ?





Pour certains documents anciens (précieux, ou, uniques) l'infographie
permet de corriger les défauts. Voici l'exemple où l'élément
gênant (le poteau au premier plan) est effacé
pour faciliter la lecture du document.


REPAIR YOUR OLD JAVELIN THROW PICTURES!
Now with Eric GEIRNAERT, our specialist of Javelin Art, everyone can improve its old images! Even the old damaged images can be repaired. Do You want to publish an old image in a book? Create your own gift for your friends and family with a classical image of javelin thrower! We can repair the any old javelin throw image or other sport pictures!
Send your documents by email. We'll repair your image for a small fee! Send your email to: eric.ambre.jaune@hotmail.fr, Look at this clean picture exemple.







(Re)mettre en lumière le beau et vrai javelot...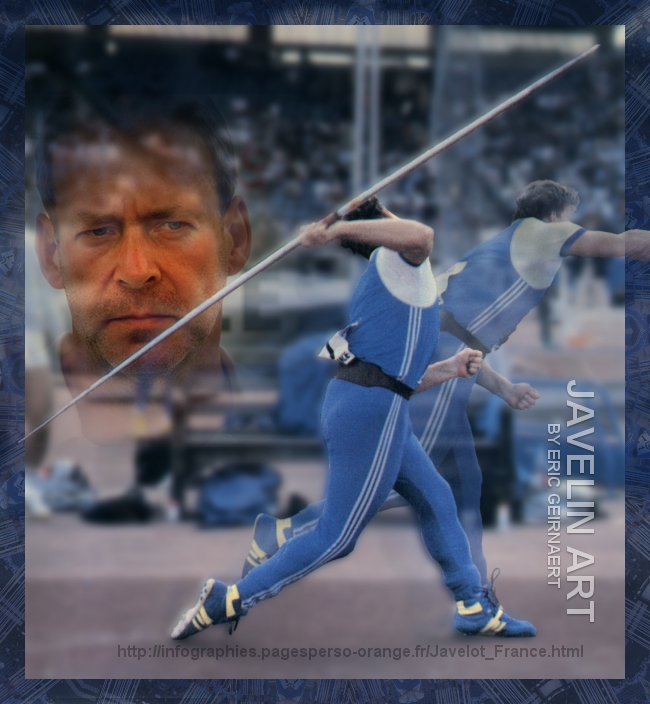 Les documents web concernant Uwe Hohn (sur la toile) sont assez incomplets
et, parfois, peu esthétiques,... (je parle des pages françaises). Il me semblait
important de présenter correctement -ou mieux-, le brillant lanceur allemand.
Depuis trente ans, les documents sont à dispositions… Et, au final, il suffit
d'être créatif ou inspiré pour (re)mettre en lumière le beau et vrai javelot.
A rebours de que certains affirment en France, aucun moyen n'est
nécessaire pour améliorer la communication du javelot...
La preuve,... en images,... Javelin-Art...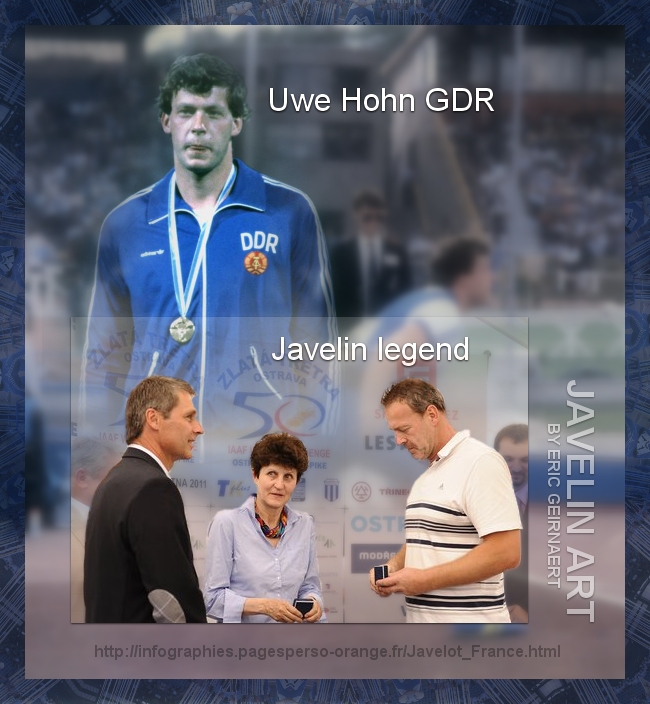 All Javelin images are produced by Eric Geirnaert.
For all pictures and web design / contact :
eric.ambre.jaune@hotmail.fr

Conceptions- Réalisations Eric Geirnaert
Contact : eric.ambre.jaune@hotmail.fr

Le commentaire chaleureux d'un lecteur très
enthousiaste qui regarde cette page :
WINNER! WINNER! Eric, the Hohn javelin work (this web page) today
is WOW, WOW, WOW, BEST! WOW!!! Ken.
---
Our goal with
Javelin Art
is to get
involve every country of the world
and promote javelin throw.
---
Picture made by Javelin Art / Eric Geirnaert
Contact : eric.ambre.jaune@homail.fr

Retour :
JAVELIN-ART
Contact JAVELIN-ART : eric.ambre.jaune@hotmail.fr