All the artistic javelin art pictures, special collage and wallpaper on this web page and other are not for commercial purposes.
Here, wallpapers and all photos editing online
Javelin-Art
by
Eric GEIRNAERT

With Javelin-Art, we are one of the best digital images retouching / editing professionals located in Bourgogne - France.
We provide all kinds of image editing solutions to different companies all over the world. We provide best quality service
in best price: yes, all services are FOR FREE! You can look this web site to judge our quality work.
You can try us by sending a sample javelin image for free test to look our quality work.
Wallpaper and all photo editing online services Javelin
by
Eric GEIRNAERT
- NEW pictures
Javelin-Art !
Contact :
eric.ambre.jaune@homail.fr
Uwe Hohn...




Uwe Hohn
was the tallest of the javelin record holders!!!
Lors de la journée olympique du 20 juillet 1984 dans le stade
Jahnstadion de Berlin, un jeune homme a marqué
l'histoire du javelot en lettres d'or... Rendons
hommage à
Uwe Hohn.
et rendons également un
hommage à
Petra Felke.
All photo editing online services Javelin Art is made by Eric Geirnaert
Contact :
eric.ambre.jaune@homail.fr
Javelin Art - Back
"
Eric your art expresses our PASSION IN MOTION...'ole' saying...
A picture is worth a thousand words. You capture all of the
critical phases of throwing and you withhold nothing in your sharing. Eric you may be alone...
so was Michelangelo!
No one
offers nor shares your LOVE OF THIS EVENT as you do. AND NO ONE has expressed such insight in capturing all the
aspects of throwing especially the EMOTIONAL aspects. It is with JOY I Thank you once again for sharing...
MANY THANKS Eric. Eric quoted my belief about AGE and PASSION...AFTER over 50 years I'll bet
EVERY athlete who has had the privilege of representing not only their sport but THEIR Country has
this PASSION. ESPECIALLY when you see our youth of ALL nations working hard, and trying to
achieve excellence beyond their dreams. One feels a joy and the adrenaline flow in support
of their efforts. Eric you are sweet. Eric...this is such a precious and humbling gift. I think
you know by now I how I feel about your ART...again Heartfelt Thank You Eric."
Fran Davenport.





And special picture with Ferenc Paragi...







All the pictures are made by Javelin Art / Eric Geirnaert
Contact : eric.ambre.jaune@homail.fr
Javelin Art - Back
Autour du même sujet, avec Javelin-Art vous pouvez choisir plusieurs présentations...
Uwe Hohn : Hello Eric, thank you very much .....It's very nice !!!!
Des présentations originales, surprenantes, qui marquent

les esprits. Les documents réalisés sont à destination

des lanceurs qui souhaiteraient des images pour

leurs communications personnelles...
Truly amazing!!!!
That is truly amazing!!!!
I greatly appreciate you taking the time to make some art out of my pics.
I am a super fan of art and creativity.......and I will tell you that you are
onto something great with your style!
Thank you so much again!
Breaux Greer.
"Eric, Thank you, this is a great pic! Can i use this in my facebook?" Teemu Wirkkala.
Oh mon Dieu ! C'est génial !!! Eric, vous êtes un maître graphiste ! Il semble que cela a pris du temps. Très bien fait !!!
C'est incroyable ! Et mon fils a dit qu'il serait heureux d'avoir cela imprimé sur le mur de sa chambre ! Kelly Flynn Sillaste.
AWESOME!!! Great Job...
I'm really surprised on how well you put the pictures together and
the Arizona back ground. To imagine all that and put it to art, you are a very
talented person. Can't wait to show it to my family and friends. THANK'S ERIC!
Mike Chapman.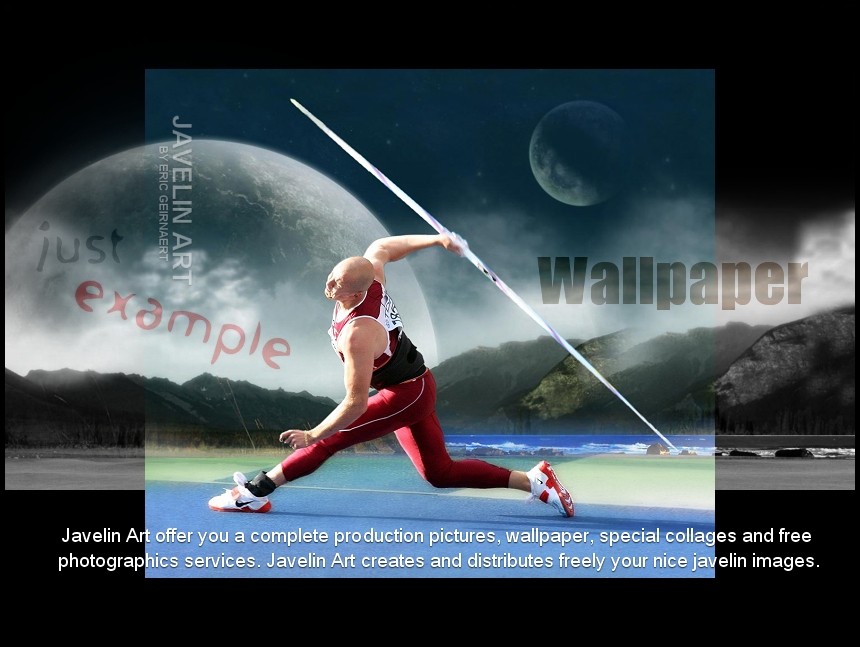 Le Japon, nouveau pays fort

du lancer de javelot...


"Thanks a lot Eric!!! I love it so much!!!"

"Now I must response this ART-Javelin with a good record."

"It's so cool!! Looking forward to see next one! Thank you!"

Genki Roderick Dean.



"Excellent!!!!!!!!!!!!!!" - Tom Petranoff.
"Eric, you are a master! I am amazed at you! Thank you very much.
It gives me motivation!!!!!!!!!!" Sashok Kozlovsky.
Javelin Art offer you a complete production pictures collages and free
photographics services. Javelin Art creates and
distributes freely nice javelin images.
"L'effet image est assez génial sur Patrik Boden.
I like IT very much." Dag Wennlund
"Nostalgie... Eric, belle image vers la droite..." Dag Wennlund
"Je vous remercie pour ce travail. Bon sang que de belles images...
Je vais revenir vers vous ce jour. Ce serait cool de
faire une affiche." Dag Wennlund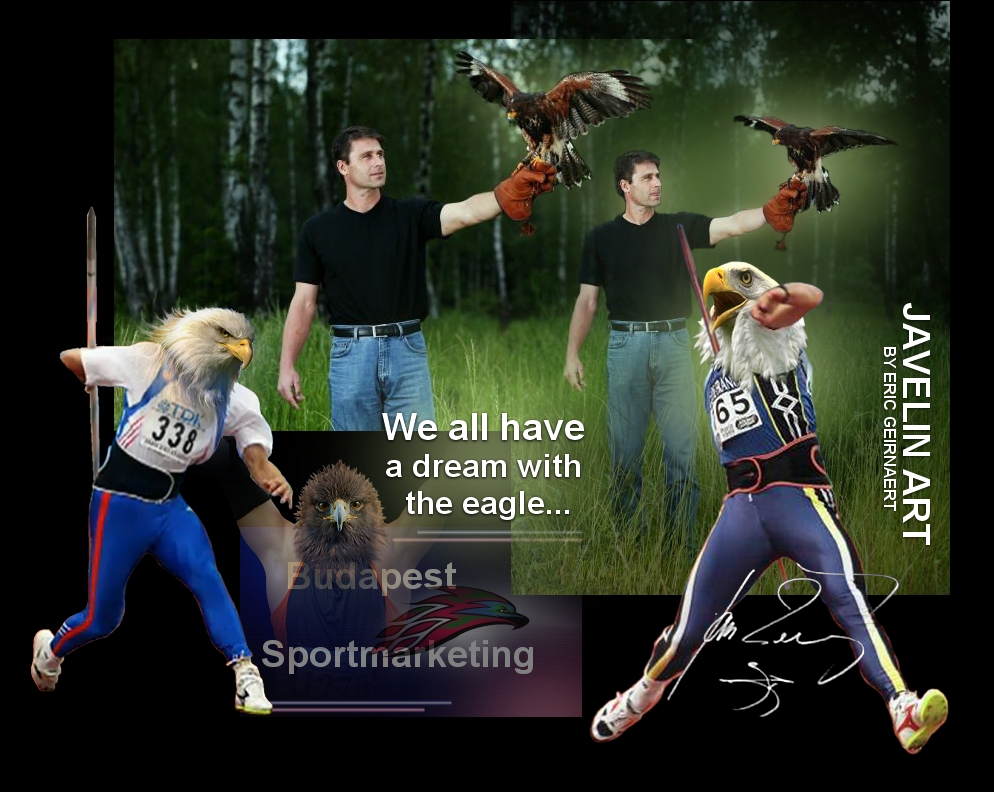 To develop collaborations and share our common passion

for the beautiful javelin, think Javelin-Art! Signs, posters,

compositions on request. All works will done FOR

FREE with your own original photographs.
"Hi Eric, Javelin-Art, i would really like that! It is so, SO beautiful, thank you SO much!!!"
Sunette Viljoen
"So amazing! The Sport we love with your awesome work really creates
something super special! Thank you, i will come back to it!"
Lukas Wieland.
"You are one great Artist Eric!!!"
Mark Mirabelli.
"All your images work stands on top of the javelin world mountain!
Thanks for all that wonderful work, Dr. Eric-Javelin/Art!
Eric, your work is still timeless!"
Samira Hall.
"Love your art work. You have a talent for sure!"
Paul S.
"Your pictures are incredible! Your work will motivate the young throwers!"
Egil Ragnar Danielsen.
"I have been visiting your Javelin pages couple of times. Very impressing and enthousiastic
javelin pictures. I'll keep in my mind these pictures and possibilities to do something
new and amazing pics from Finnish throwers in the future."
Riku.
"Your web site is very interesting."
Jarmo Hirvonen.
"Vraiment top class! La classe la plus élevée, très agréable !"
Marina Ilyina.
"Eric I just finished viewing your beautiful page of throwers. YOUR LOVE of this event is so obvious and passionate. You capture the essence of the events beauty. I'm a former thrower from the 60's and I always used imagery
to perfect my technique...your photos would be very helpful to aspiring throwers. I am just so impressed
with your ART... Eric is so gifted in capturing the essence of throwing the javelin...
he's elevated it to an art form instead of the old grunt style.
You're the man...as they say... Eric once again ...you do
beautiful work.Thank you."
Fran Davenport.
"I like so much your amazing pictures."
Fatih Avan.
"Merci pour ce partage.... Comme d'habitude, c'est un plaisir pour
les yeux... Quel ravissement de regarder ces très
belles compositions. Cordialement."
Christine.
"Eric, as always, you are great! Nice, Very creative!!!!!!!!!"
George Herczeg.
"You have very nice pictures of javelin throwers. I am sure I will
contact you when I need some special javelin picture."
Petteri Piironen.
"Thank you!!!Pictures loooovely, so much, emotion in them, thanks for your work!"
Anastasiya Svechnikova.
"Je regarde, et, cela vaut une séance de lancer ! Je vais arriver en retard au
stade, mais, sans blague, c'est de mieux en mieux ! Les nouveaux
posters sont... hallucinants ! Chapeau de haut en bas, l'artiste..."
Marc Longet.
"Superbes, impressionnantes, quelle belle promo pour ce sport, -mais, qui de toutes
les façons n'a pas besoin de pub, (humour) puisque c'est déjà
LE PLUS BEAU SPORT du monde !-"
Martial V.
"WWWAAAAOOUUU ! C'est méga beau. Quel tecnicien !"
Serge Leroy.
"Félicitations pour votre site Javelin Art, vos montages sont absolument magnifiques !
Votre passion pour le javelot est communicative, j'ai adoré me
plonger dans les explications de concours"
Romain Adam.
"OUhhhhaou !!!!! As usual, always the best !!!!!"
René-Jean Monneret.
"You are a clever man Eric!!! Yes, I have no hesitation in saying that you are both
clever and creative Eric!!!!! I love and admire your wonderful work
especially it's focus on sport, art, javelin etc." Mike McNeill.
"WOW!!!!!!!! Eric, Your BEST WORK YET!!!!!!!!!
Javelin Rules the World through your art work!
Today's Javelin-art is really really GREAT!
You (Eric and Javelin-Art) should
win the EU and WORLD
competition for
BEST WEB
SITE!!!"
Ken Hall.
"C'est
toudis
du javelot; à quand une belle nénette
ou un beau mec au disque ? !!!!"
Marie Joe Leroy.
"Talent, exploit. Eric ! Je vois que vous avez une période
d'explosion créative. Ne vous arrêtez pas!"
Alexander Sinitsin.
"Hi Eric, thank you ...they are very nice!"
Uwe Hohn.
Yes! Unleash Hell! Unleash your Javelin with Javelin-Art!
---
Pictures / Posters Javelin Art - Daegu :
---



YES! Remember Daegu Javelin

Here all Pictures-posters and Results by Javelin-Art / Eric Geirnaert






Look at the picture (up) and click to have posters and results.
All the Javelin design picture is made by Javelin-Art / Eric Geirnaert (contact : eric.ambre.jaune@hotmail.fr






---
Pictures / Posters, All Javelin Art - London :
---
YES! Remember
London Javelin






-ALL POSTERS JAVELIN LONDON-






Our goal with Javelin Art is to promote javelin throw.













Our goal with Javelin Art is to get involve every country of the
world and promote nice javelin throw.







Picture made by Javelin Art / Eric Geirnaert
Contact : eric.ambre.jaune@homail.fr









Javelin Art offer you a complete production pictures collages and free photographics services.
Javelin Art creates and distributes freely nice javelin images.


All the pictures are made by Javelin Art / Eric Geirnaert
Contact : eric.ambre.jaune@homail.fr

Javelin Art - Back